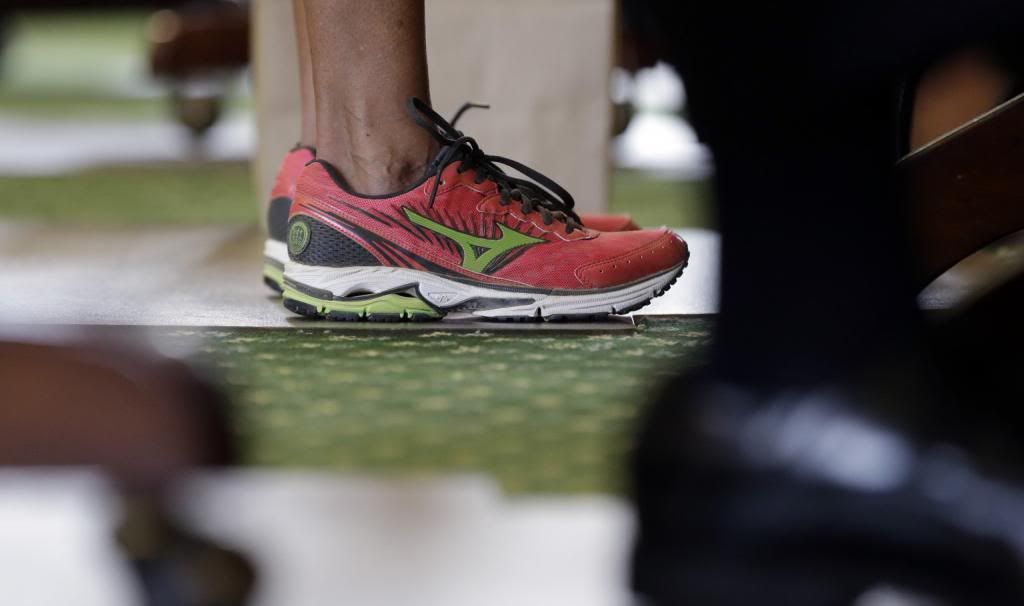 It seems a bit disingenuous to give this post the "Miscellaneous Mondays" label, what with it being posted on a Wednesday. However, because I'm not willing to make "Words-I-Should-Already-Have-Posted Wednesdays" a thing, I'm just going to pretend that it's still Monday. Hey, it almost worked for Texas Republicans.
With the exception of the cries for revolution that were voiced across the Internet following the Texas filibuster, my favourite commentary about that event occurred in an exchange between Tumblr users Captainmarvel and Andthenisay. Captainmarvel observes that "170,000 people tuned into the texas senate livestream and hollywood still thinks women can't carry a superhero film," to which Andthenisay replies, "i think 170,000 people just
watched
a superhero film." Instead of a cape and tights, this hero wears Mizuno Women's Wave Rider 16 running shoes ("guaranteed to outrun patriarchy on race day").
I've already expressed my thoughts about cinematic superwomen, which essentially echo those expressed by Captainmarvel, but I think that Andthenisay's comment is important to consider. The livestream figures tell us that people are interested in watching women fight against a patriarchal system that uses the political power of largely straight, white men to revoke the rights that we earned in decades past. While it might be tempting to use this example of real-life heroism to lobby for a Batgirl movie, what I think it shows us is that there might be a market for a film about Congresswoman Barbara Gordon.
It takes one kind of courage to take on criminals in the streets while wearing a mask of anonymity, and a very different kind to confront legislated injustice as a public figure. Instead of yet another square-jawed man defending Earth against a fictional supervillain, I'd like to go to the theatre and see a heroic woman defending women, people of colour, people with disabilities, and LGBTQ people from the very real threats we face from our own governments. Until then, however, we can watch and support Wendy Davis, Leticia Van de Putte, Tammy Duckworth, Ruth Bader Ginsburg, and all the other Women of Steel.