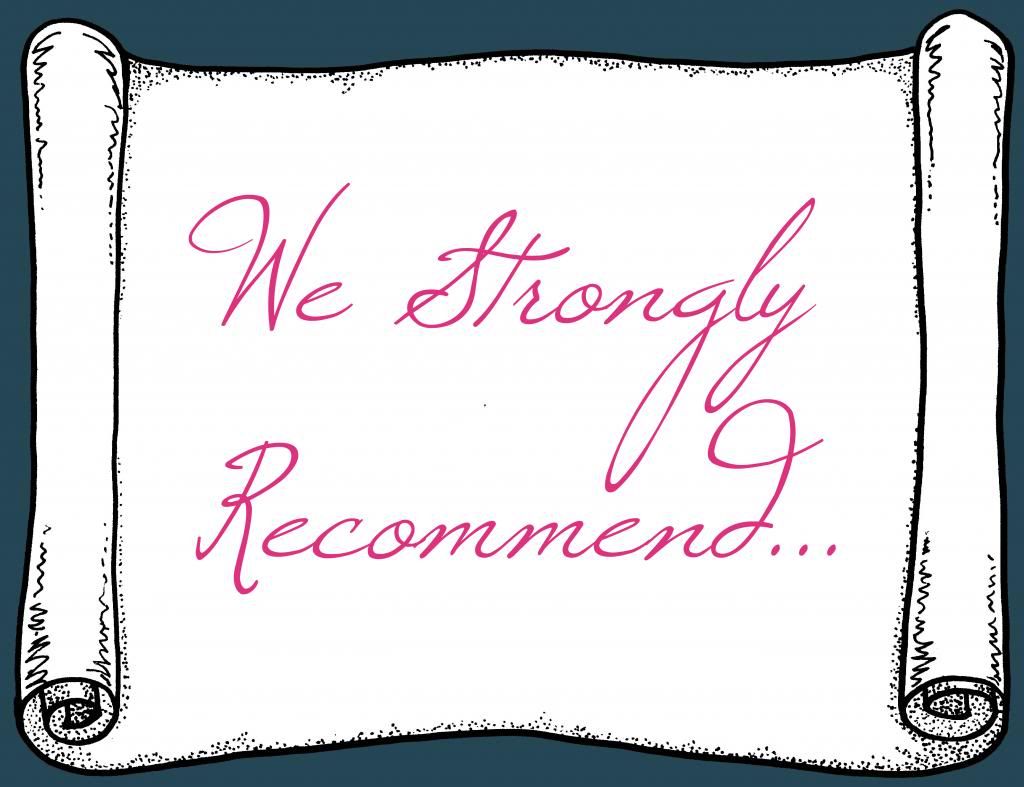 It's that time of year again. (Of course, if you go by the music playing at the mall, it's been that time of year since Hallowe'en.) We here at Strong Female Character would like to get into the holiday spirit, and what better way to do that than to support the shameless commercialism of the season? So, without further ado, the first of five recommendation posts filled with female-friendly gift ideas for the whole family.
Director: Debra Granik
Writer: Debra Granik, Anne Rosellini, Daniel Woodrell (book)
Starring: Jennifer Lawrence, John Hawkes
Some people will tell you to watch this film because it's basically Jennifer Lawrence's audition for the role of Katniss Everdeen. While those people might have a point, it is only one of the many points in favour of immediately opening a new tab and ordering
Winter's Bone
.
Based on a novel by Daniel Woodrell,
Winter's Bone
chronicles one teenaged girl's search for her father as she fights the cold of an Ozark winter and the colder actions of her neighbours. When her father goes missing, Ree Dolly must find him before their house is seized as part of his bail. It soon becomes clear that there is much more to his disappearance than avoiding jail time, and Ree sets out to solve the mystery and save her family.
This brief summary doesn't do the film justice. It is a brutal, wonderful treatment of a harsh life and the hard people it produces. The primary triumph, to our minds, is the character of Ree Dolly, who is tough enough to withstand a beating, tender enough to care for her younger siblings, and determined enough to act when everyone tells her to stop. Do yourself a favour and pick up the book as well; both it and the film are well worth your time.
Director: Oliver Parker, Barnaby Thompson
Writer: Piers Ashworth, Nick Moorcroft, Jamie Minoprio, Jonathan M. Stern
Starring: Talulah Riley, Gemma Arterton, Rupert Everett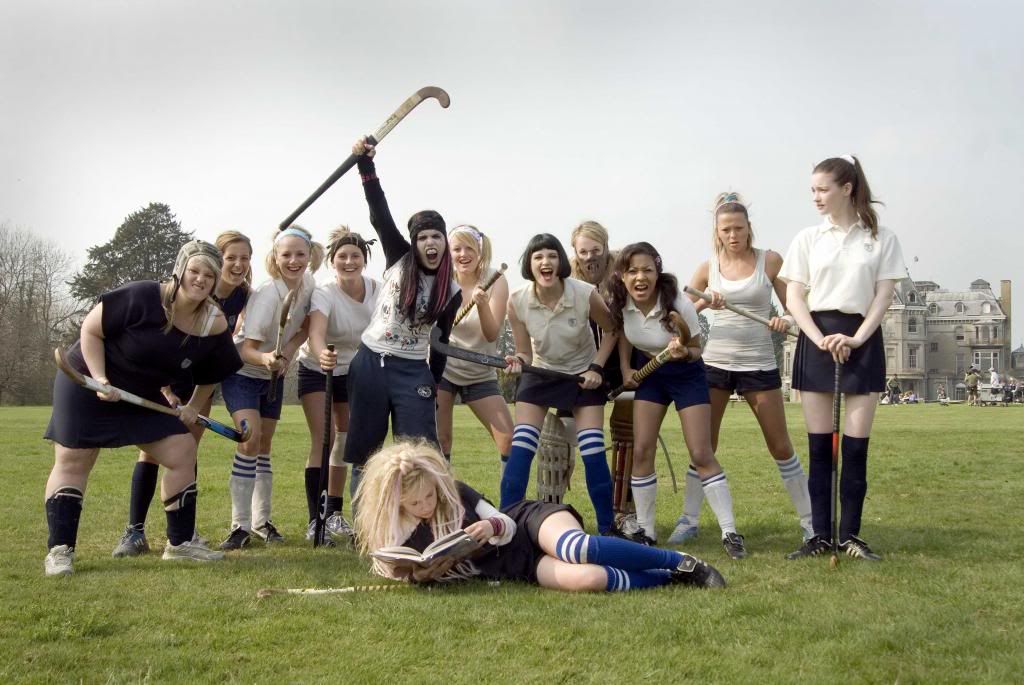 In many ways,
St. Trinian's
is not a good film; it is, however, a feel-good film. We don't mean that in the "movie based on a true story in which someone magically turns their life around and embraces love conveniently released at Christmas" way, but in the "that movie had so many women there was a token male character" way.
Based on the cartoons by Ronald Searle and vaguely related to the films made in the 1950s and '60s,
St. Trinian's
focuses on Annabelle Fritton, a teenaged girl experiencing culture shock when she transfers to her aunt's boarding school from the prim and proper Cheltenham Ladies' College. St. Trinian's is a school for female delinquents with no rules in place to prevent them from working together to hone their skills; in fact, the school encourages criminal behavior. So, when the girls learn that the school is in danger of being shut down, they orchestrate a heist.
This film and its sequel, the not-quite-as-good
St. Trinian's 2: The Legend of Fritton's Gold
, are flawed, but there hasn't been anything with this much girl power released since the Spice Girls broke up, so we'll take it.
Director: Brenda Chapman, Mark Andrews
Writer: Brenda Chapman, Irene Mecchi, Steve Purcell, Mark Andrews
Starring: Kelly Macdonald, Emma Thompson, Billy Connolly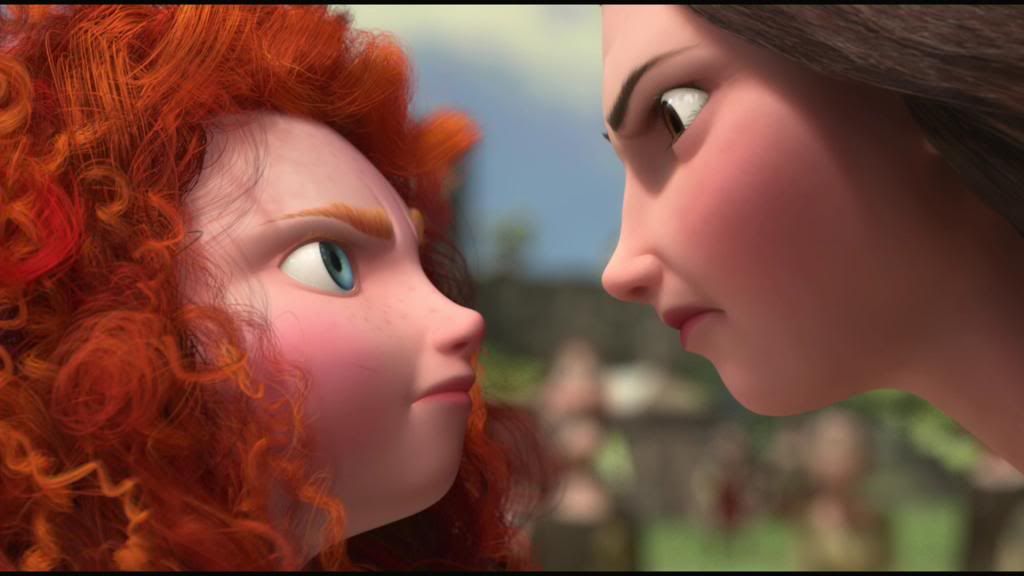 "If you had the chance to change your fate, would you?" With the recent purchase of Lucasfilm, Disney now owns basically everything, so you've probably been living under a rock if you haven't heard this phrase.
Brave
tells the story of the fraught relationship between a mother and daughter, and what happens when the personal becomes political. When headstrong Merida, who hates being a princess, learns that she will have to marry a suitor from one of the kingdom's other clans, she finds a loophole. Unfortunately, her actions threaten to destroy both an uneasy alliance and the already strained relationship Merida has with her mother, Elinor. When Merida makes another foolish -- if completely understandable -- decision, it is up to her and her mother to save the kingdom.
If you've read our "New Age of Princessery" or "Disney Mothers" posts, you know that we adore this film. It's full of women talking to each other and being complex and doing things, and it argues that women's relationships are important not only to history but to stories in general. If that doesn't convince you (and if it doesn't, you probably shouldn't be here), the film is also gorgeously animated and beautifully scored.
Director: Alice Wu
Writer: Alice Wu
Starring: Joan Chen, Michelle Krusiec, Lynn Chen
The tagline for
Saving Face
proclaims it "a romantic comedy about right, wrong and everything in between." It may be more accurate (if less compelling) to label it "a film about what happens when you watch Chinese soap operas instead of dealing with your problems."
Wil Pang is a young surgeon with a promising career whose life is disrupted when her pregnant mother moves in with her. In order to restore her mother's social standing, Wil sets her up with a string of potential husbands. Unfortunately, this happens just as her own love life is picking up with the appearance of Vivian Shing, a ballet dancer nursing a decades-long crush. Well-written, often poignant hijinks ensue.
Halfway through my most recent re-watch, I had the idea to tally the number of conversations with which this film passes the Bechdel test. I quickly abandoned this idea because, honestly, in a film where the three principal characters are all women, the number was likely to be pretty high. Also, in a piece that explores issues of racism, cultural expectations, and the detrimental effects of patriarchal rule, you can rest assured that these women are talking to each other about something other than men.
Director: Vadim Jean
Writer: Vadim Jean, Terry Pratchett
Starring: Michelle Dockery, Marc Warren, David Jason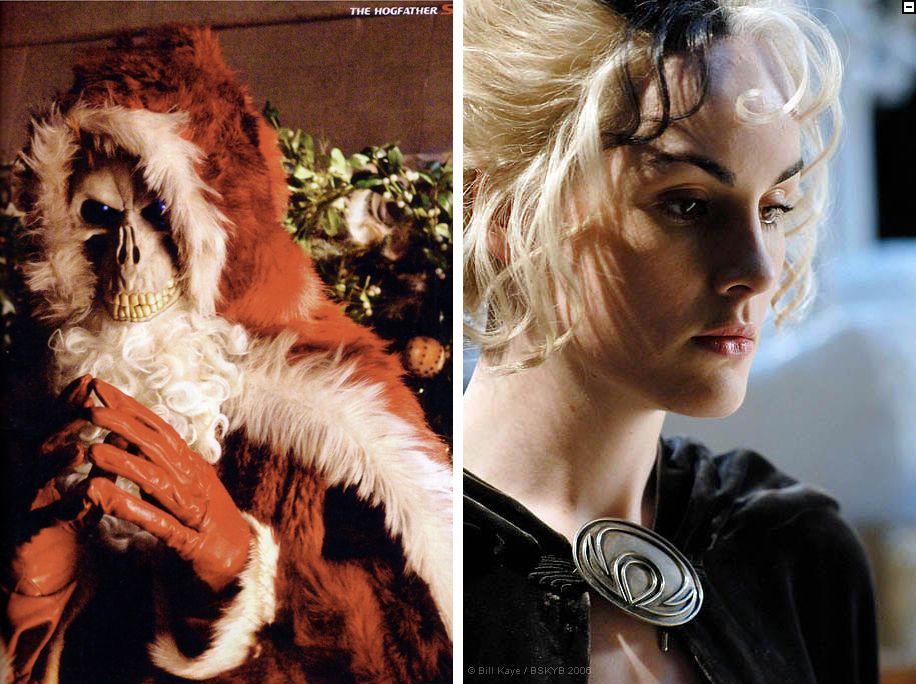 Every year, while hanging the stockings by the chimney with care and decking the halls with boughs of holly, my family puts up one very special decoration. On our front door, we hang up two banners: the one facing outward emblazoned with an image of a jolly Santa Claus, the one facing inward a carbon copy, save for the replacement of rosy cheeks with a grinning skull.
Based on the Terry Pratchett novel of the same name,
Hogfather
tells the story of the night that Death traded in the black robes for a red, fur-trimmed suit. When an assassin is hired to kill the Hogfather, the Disc's version of Santa Claus, Death realizes that someone will have to keep belief in the jolly fat man alive. While Death delivers presents, his granddaughter, Susan, must figure out who is trying to destroy the Hogfather. If she fails, the sun will never rise again.
With elements of
The Grinch
,
'Twas the Night Before Christmas
, and a number of other holiday stories,
Hogfather
is like a package of Christmas tradition, slightly subverted and tied with a bow. Add to that the presence of one Susan Sto Helit, a badass governess who drop-kicks bogeymen, manipulates time, and has awkward family bonding moments with Death, and you've basically got a perfect holiday flick.