In our original plan, there was going to be a
Glee
month in either May or June. That was before the fourth season aired, and a show that had been going downhill made it its mission to burrow deep into the Earth's mantle. We were left to ask what deserves our attention more: an offensive mess that insults its viewers' intelligence and makes all the wrong decisions while thumbing its nose at the right ones, or technicolour ponies. Do you choose the show that makes you happy, or the show that got picked up for two more seasons and will therefore still be there when you're feeling particularly vitriolic and need a deserving punching bag? It wasn't exactly a dilemma.
The choice became even easier when I was reminded of
Glee
's ostensible mission statement, that glee, by its very definition, is about opening yourself up to joy. While the eponymous show has well and truly failed in this mission,
My Little Pony: Friendship is Magic
hasn't. In fact,
MLP
features a character who has made it her mission to bring joy into other ponies' lives.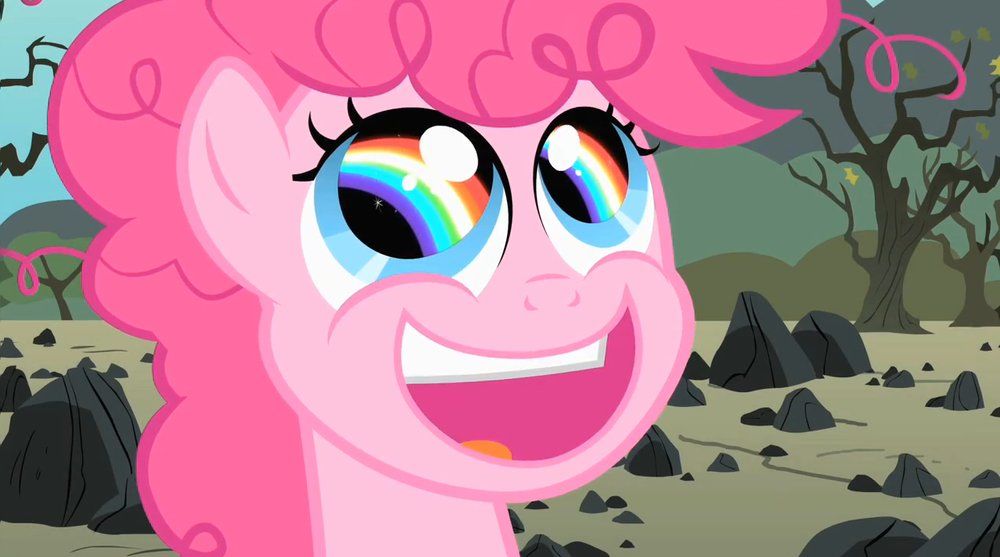 Pinkie Pie is the ultimate people pleaser. As we see in the story of how she got her Cutie Mark, she spent her early years on a rock farm grayer than Dorothy's Kansas. She and her family never smiled, and life in general was about as dismal as it could get. One day, while moving rocks from one field to another, she spotted a rainbow that infused her world with colour and joy (and her hair with volumizing products). The intense joy she felt convinced her not only to make a habit of smiling herself, but to make a lifelong mission out of getting others to smile. To this end, she throws a party for her family, and the joy she receives from their consequent smiles causes her Cutie Mark to form.
Pleasing others is so fundamental to Pinkie Pie's character that her Element of Harmony is laughter. When she and the other members of the Mane Six find themselves in the Everfree Forest in the second episode, she weaponizes laughter and basically Riddikuluses a set of terrifying trees back to their original form. What the show never mentions, however, is that laughter doesn't really fit in with the other Elements. Loyalty, kindness, generosity, and honesty -- the other constitutive elements of friendship, which, as we all know, is magic -- are qualities, while laughter is an action. On the face of it, it seems like humour might be a more suitable descriptor for the concept embodied by Pinkie Pie.
At the same time, I would posit that "laughter," by virtue of being the odd one out, was actually very specifically chosen. While the other Elements represent qualities that are exemplified through actions, Pinkie's is an action unto itself. For a pony who explicitly states that she wants to bring joy to others, the active aspect of inciting laughter seems fitting. I also wonder if the writers intended for Pinkie's Element to be the most limited and limiting.
I know that that sounds a bit nebulous, so I'll explain what I mean. For the rest of the Mane Six, their respective Elements represent one aspect of their personalities. While Twilight nurtures her magical ability, she also cultivates her analytical mind, hones her leadership skills, and learns to cope with her sometimes crippling anxiety. Applejack is honest, but she is also hard-working, competitive, and heroic. Fluttershy's kindness is an integral part of her personality, but the show focuses more on her shyness and her efforts to overcome traumatic experiences from her childhood. Rainbow Dash and Rarity actually undergo a lot of character development that directly relates to the seeming inconsistencies between their self-centeredness and their respective Elements of loyalty and generosity.
And then there's Pinkie Pie. Her episodes focus on the Element of laughter, of fun, of pleasing and entertaining others. The show suggests, on numerous occasions, that there's not a lot more to Pinkie Pie than her smile-spreading quest. At the same time, however, it shows Pinkie Pie fighting this very assumption. In "Baby Cakes," for example, she sets out to prove that she can be a responsible person by babysitting the Cakes' two children. This requires her to learn that babies need more than a playmate, and that she needs to be able to do things that aren't fun.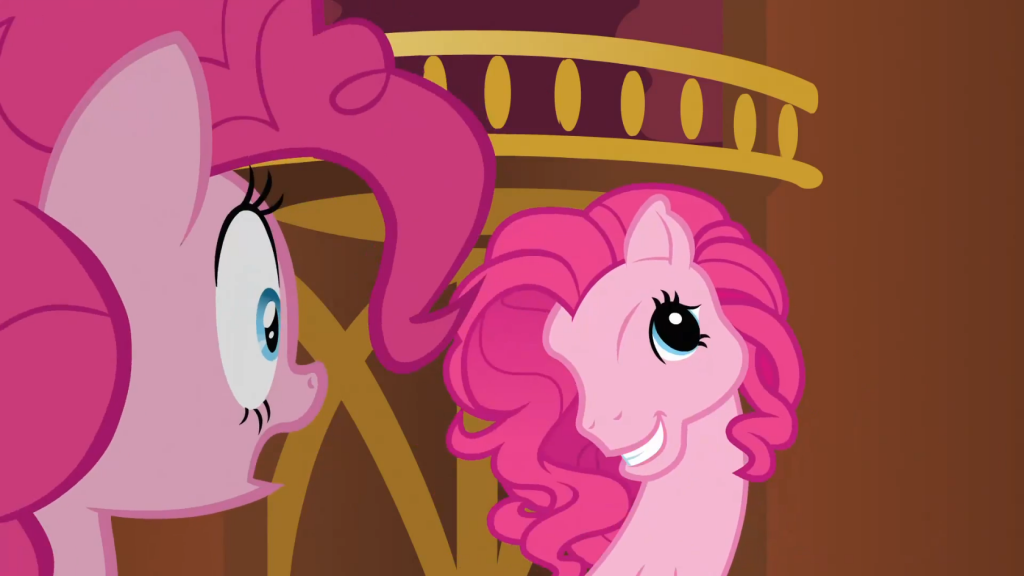 The best example, however, occurs in "Too Many Pinkie Pies." In this episode, Pinkie Pie struggles to accept the fact that she can only take part in one fun activity at a time. Realizing that she lives in a world where frogs can be transformed into oranges, she quite understandably goes looking for a magical solution, which she finds in the Mirror Pool. Using this pool, Pinkie Pie duplicates herself, creating a double obsessed with fun to the detriment of sustaining actual relationships. When two Pinkie Pies can't experience all the fun in Ponyville, they create two more, who duplicate themselves into a herd of Pinkie Pies. The clones terrorize Ponyville in their single-minded search for fun, destroying all the things they were created to enjoy.
The original Pinkie, meanwhile, is caught in the grip of an existential crisis. Unlike other duplication storylines, in which the doubled character fiercely asserts their original status, Pinkie Pie accepts that there is no way to tell her apart from the clones. Even she, despite knowing that they lack her memories of her friends and, really, any higher brain function than that required to process "fun", comes to think that she is just another double. Instead of joining her other selves, she becomes depressed. When Spike observes this, he suggests that this might be the original Pinkie Pie; Twilight responds that the real Pinkie "never sat that long in one place her whole life."
To my mind, this is where the episode takes a turn for the tragic. On a show about the power of friendship, one would hope that one of Pinkie's friends would realize that she was the original. Maybe they could have tested the Pinkies' knowledge of their adventures or of the Mane Six themselves; after all, Pinkie Pie prides herself on her preternaturally good memory for her friends' personal information. Instead, Pinkie Pie herself comes up with a solution: give the clones a challenge, to do something that is not fun at all, and the real Pinkie will be the one who most wants to stay with her friends, despite the fact that they couldn't tell her apart from an army of fun-obsessed robots. Pinkie is expected to prove that her love for her friends is greater than her love of fun (and, perhaps, greater than the ADHD she might very well have), while her friends don't have to prove a thing. The problem is that we know that Pinkie is devoted to them -- the brief delusional episode she suffers in "Party of One" when she thinks her best friends are kicking her out of the group is ample proof -- but we rarely see any of her friends showing a similar devotion to Pinkie Pie.
In fact, in several of the Pinkie Pie-focused episodes, we actually see her become something of an unwitting nemesis for Twilight Sparkle. This begins in "Feeling Pinkie Keen," when Twilight learns about her friend's "Pinkie sense" -- a form of extrasensory perception that manifests in uncontrollable muscle spasms -- and immediately dismisses it as hogwash. Pinkie argues that a magician has no leg to stand on when it comes to rejecting scientifically impossible things, but Twilight literally gets on a soapbox to defend the inherent logic of magic. Nevertheless, as all of Pinkie's premonitions prove accurate, Twilight must concede that there are some things that have to believed whether or not they can be explained.
The conflict between logic and intuition continues in "MMMystery on the Friendship Express," in which Pinkie Pie, who has failed to protect the Cakes' entry in a dessert competition from hungry vandals, takes it upon herself to identify the perpetrators. Unfortunately, she is more interested in accusation than investigation, and Twilight promptly takes over as Chief Investigator (and Wearer of the Deerstalker) on the strength of her long mystery-reading career. Only after Twilight has solved one mystery does she let Pinkie try her hand at playing Sherlock, using the deduction methods Twilight employed. One of the reasons why Pinkie Pie appears to be so strange may simply be because we often see her actions filtered through the lens of Twilight's perception, and Twilight simply doesn't get her.
Then again, neither does anyone else. Pinkie Pie's a tough nut to crack, partly because she's so open. In "Griffon the Brush-off," Rainbow Dash calls Pinkie Pie random, but I'd argue that there's more to it than that. Sure, Pinkie plays ten instruments at once, stores balls around Ponyville in case of ball shortages, and agonizes over calling her culinary invention a chimicherry or a cherrychanga, but most of her actions make sense in a roundabout way. Most of the time, Pinkie Pie herself is willing to walk people around that roundabout, verbalizing the mental processes that took her from Point A to Point Q. Usually, what leads her to make her least overtly logical leaps is a literal or lexical connection. She understands words exactly as they are, and, while other ponies grasp the connotations that make figures of speech make sense, Pinkie Pie must try to connect them as best she can.
In light of her literal understanding of language, it's a little strange that Pinkie Pie has such a liberated view of the world in which she lives. Pinkie Pie possesses the ability to manipulate the world around her, allowing her to defy the laws of physics and logic. On several occasions, she beats pegasi to locations to which they had to fly, with no explanation as to how she got there. Her internal monologue takes the form of felt stop motion animation. When she explains her theories about the identity of the cake vandals, she envisions them in the style of a silent film, a James Bond movie, and a Japanese ninja flick. In "Too Many Pinkie Pies," one of the clones rearranges her face into that of a G3 My Little Pony, saying, "Bet ya can't make a face crazier than this!" On some level, Pinkie Pie seems to realize that she is in a cartoon, and she is making the most of it.
Verdict: Pinkie Pie defies categorization